Minnesota Legalizes Recreational Marijuana-What employers should do now to prepare for the August 1st effective date
Effective August 1st, 2023, Minnesota becomes the 23rd state to legalize recreational marijuana. Minnesota already offered a medical marijuana program for patients with qualifying conditions-and as of March 2022, Minnesota permitted consumption by liquid, pills, and smoking dried, raw hemp-derived cannabis.
With the new law, an Office of Cannabis Management was created to oversee the program. And while the law goes into effect in August 2023, it is expected to take about 18 months for the first dispensaries to open.
So what is permitted under the new law?
Adults 21 and older may:
Use, possess, or transport cannabis paraphernalia
Possess or transport two ounces or less of adult-use cannabis flower in a public place
Possess two pounds or less of adult-use cannabis flower in individual's private residence
Possess or transport eight grams or less of adult-use cannabis concentrate
Possess or transport edible cannabis products or lower-potency hemp edibles infused with a combined total of 800 mg or less of tetrahydrocannabinol
Marijuana may be used:
In a private residence, including the yard and area immediately surrounding the house
On private property that is not generally accessible by the public, unless explicitly banned
On the premises of an establishment licensed to permit on-site consumption
Notice anything missing? The workplace! How should employers react to this new law?
First, it's important to note what the Lawful Consumable Products Statute will say after August 1, 2023:
"If an employee uses cannabis outside of work hours and off the work premises, then an employer may not lawfully discipline an employee for that behavior. However, employers can still prohibit the use of marijuana if the use of it would violate federal or state law or cause the employer to lose money or a licensing benefit under federal law."
Adjusting your drug testing policy is good place to start.
Cannabis testing is different from drug and alcohol testing. After the effective date of this law, employers may test under compliant policy for the following reasons:
Reasonable suspicion
Random testing for certain employees
Treatment program testing
What about testing job applicants?
Nope, sorry. The new law prohibits testing job applicants for cannabis as a condition of employment. Going forward, an employer may not refuse to hire a job applicant solely because the applicant's test results indicate the presence of cannabis. However, for certain positions, cannabis is still considered a drug and employers may test applicants for cannabis.
The positions are:
Safety-sensitive positions (as defined by statute**)
Peace officers
Firefighters
A position requiring face-to-face care, education, training, supervision, counseling, consultation, or medical assistance to children, vulnerable adults, or healthcare patients
A position requiring a commercial drier's license or require the employee to operate a motor vehicle for which state or federal law requires drug or alcohol testing of the applicant or an employee
Any position funded by a federal grant
Or any other position for which state or federal law requires testing of a job applicant or an employee for cannabis.
It's also important to note that under new regulations, employers may no longer require routine physical examination cannabis testing for most positions, nor can they require cannabis testing on an arbitrary or capricious basis.
Can employees be subject to discipline?
Yes, if the employee uses, possess, sells, transfers, or is impaired while working, while on company property, or operating company equipment and if any of the following requirements are met:
As a result of consuming a cannabis or hemp-derived product, the employee does not possess the clearness of intellect and control of self that the employee otherwise would have; or
If testing verifies the presence of cannabis following a confirmatory retest; or
If the employee's written work rules for cannabis apply to such conduct and the policy meets the minimum requirements of the Minnesota Drug and Alcohol Testing in the Workplace Act ("DATWA"), Minn. Stat. § 181.952.
If the employer is required to do so under state or federal law or if a failure to do so would cause an employer to lose a monetary or licensing benefit under federal law.
Other DATWA requirements:
If it's the employee's first positive drug test, MN employers must offer the employee the chance to go to rehab instead of terminating them.
DATWA's Written Policy Requirements: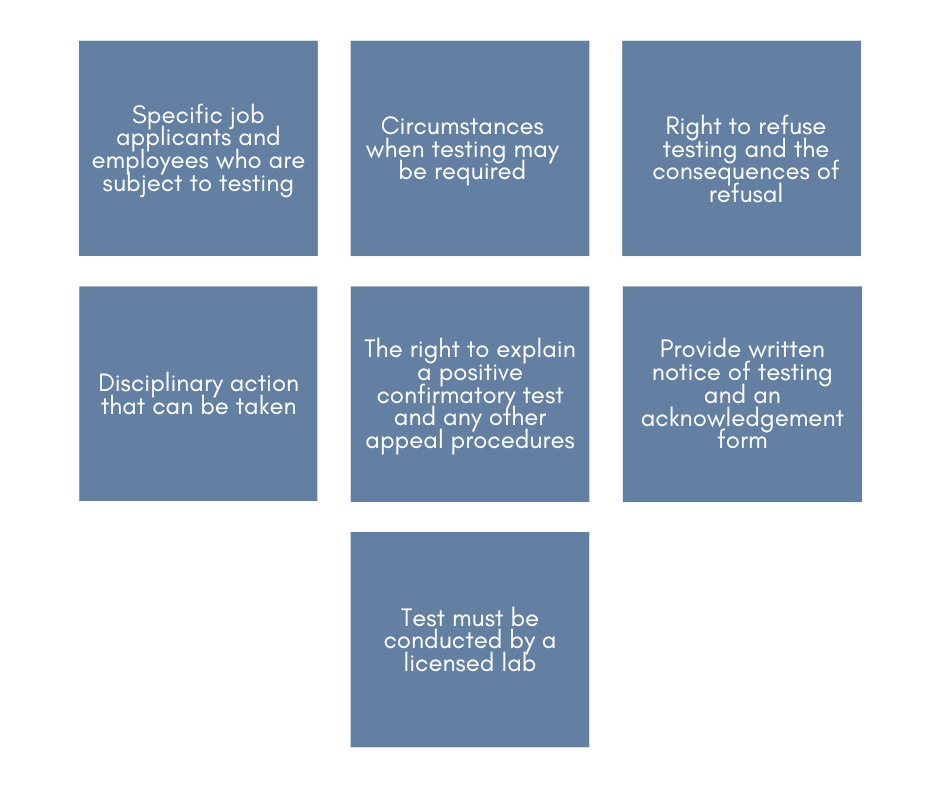 The consequences of not paying attention to these regulations can be costly for employers. Job applicants or employees can bring a civil action based on an employer's or laboratory's violation of the DATWA.
Available remedies include:
Damages
Attorney's fees, if the violation is knowing or reckless
Injunctions prohibiting the employer or laboratory from violating the DATWA
Any other equitable relief the court deems appropriate, including:

Hiring
Reinstatement
Back pay
If an employer violates the Lawful Consumable Products Law, a job applicant or employee can bring a civil action, and fi the court finds a violation, can award damages (limited to wages and benefits lost due to the violation) and/or court costs and attorney fees.
So what now?
Employers with Minnesota employees should revise their drug and alcohol testing policies and consider whether testing for cannabis makes sense for their company in light of these changes. Reminder that the medical marijuana program will still exist. There will be additional medical cannabis licenses allowed under the new law. It is still unlawful for an employer to discriminate against a person who is enrolled in the medical cannabis program unless the employer would lose a monetary or licensing-related benefit under federal law or regulations. Patients enrolled on the medical cannabis registry may still present their medical cannabis registration verification to their employer in the event the patient tests positive on an employer's drug or cannabis test. However, employers are not required to permit an employee enrolled in the medical cannabis program to be under the influence at work.​
​
**"Safety-sensitive position" means a job, including any supervisory or management position, in which an impairment caused by drugs, alcohol, or cannabis usage would threaten the health or safety of any person.
We recommend revising your current drug policy with the consultation of counsel-reach out today to consult with a member of our team-before the new law goes into effect.
The Employment Law attorneys at Wagner, Falconer and Judd stay up to date on these regulations so you don't have to. As always, laws are continuously changing and evolving-the information provided in this blog is up to date as of the published date.